What is a medical/surgical mask?
A medical / surgical mask is a medical device which has its specific standard to follow.
Please note that the standard of medical devices is regional, for example, in the USA, the FDA has its own standard for medical masks. In the EU, medical masks follow the standard: EN 14683. Based on this standard, some specific function of the masks should be tested to fulfill the requirements.
Based on EN 14683, "The medical face mask shall have a means by which it can be fitted closely over the nose, mouth and chin of the wearer and which ensures that the mask fits closely at the sides."
There are 3 types of Medical masks in the EU: Type I, II and IIR. The different types are defined by the Bacterial Filtration Efficiency (BFE), the "R" means the Splash resistance function of the mask.
According to EUROPEAN COMMISSION, "Type I medical face masks should only be used for patients and other persons to reduce the risk of spread of infections particularly in epidemic or pandemic situations. Type I masks are not intended for use by healthcare professionals in an operating room or in other medical settings with similar requirements." (Guidance on regulatory requirements for medical face masks)
Whilst Type II and IIR are designed and suited for the use of medical professionals to protect them against blood and other body fluids.
Below is the table showing requirements from EN 14683 for different types of medical masks.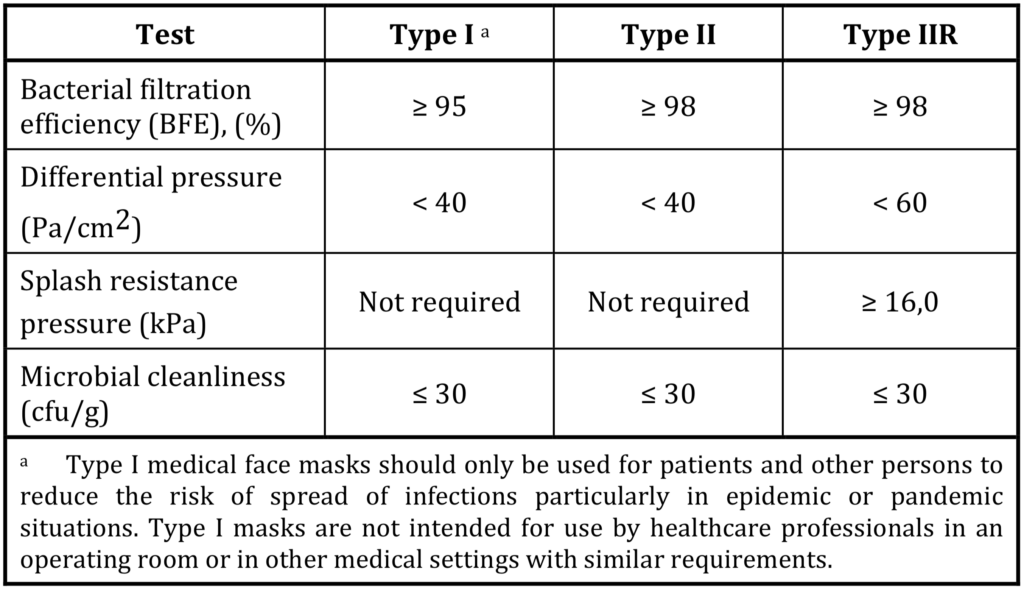 It is required to wear an appropriate mask on the flight, to this regulation, EASA (European Union Aviation Safety Agency) has a clear explanation on "What is meant by a medical face mask?".